Galician Export is an online service open to those Galician companies that already have presence in foreign markets or for those ones that want to do it. We want to gather the biggest volume of possible information to show your products all over the world. 
If you are a Galician company you will be able to include your data and your product data filling out the applied information in the following

PARTICIPATION FORM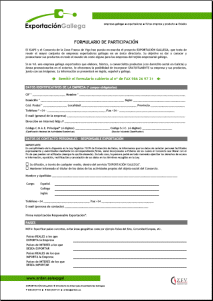 and send it by fax to the number 986 26 97 31. The images regarding your products can be sent to the email This e-mail address is being protected from spam bots, you need JavaScript enabled to view it
REQUIRIMENTS
To be a Galician exporting company 
WE OFFER
To promote the companies and the products abroad by means of Internet.
Space for a Company card and Product Cards, together with the company logo image and its products image, if the company provide them.